Content Management
The suite's content management system (CMS) is extensive and offers to users a full feature virtual framework for managing their content for both themselves and other users who may be sharing content.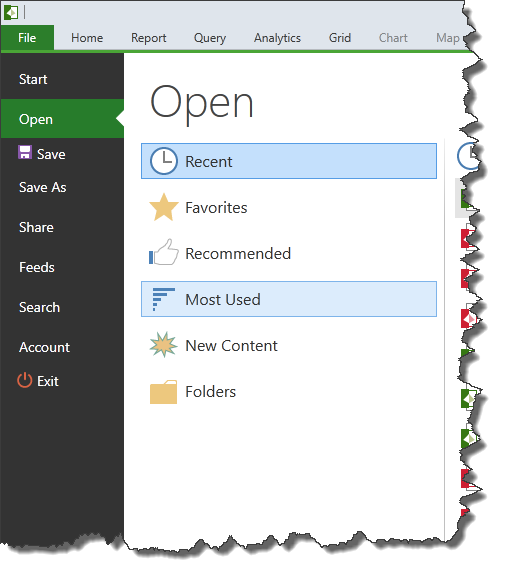 The CMS has numerous aspects, most of which are accessed through the backstage, which is common to all the applications in the suite:
The Open page provides a tree like folder system for finding content in the content domains provided by the suite. Depending on your level of access and license type these include up to four content domains: personal, group, public and legacy. The Open page also contains numerous functions and wizards for managaing your content.
Save/Save As provides an interface for users to save content into the virtual file structure. Like the open screens, the save screens provide users with appropriate domains and folders that they can save content into. This is also where content can be saved into multiple versions.
Share provides users with the ability to share and distribute content via three functions: Print, Export, and Send Email Link.
Feeds is the internal "portal" for viewing Alerts and Publications as well as Conversations from the collaboration toolset.
Search provides a search interface for finding content based on a keyword, description, tags or other advanced criteria.
Content Security
With the CMS comes an extensive and comprehensive security framework for securing content (in addition to securing the data itself).
See security for more.
Home | Table of Contents | Index | User Community
Pyramid Analytics © 2011-2022