Search
The Search tool in the backstage provides a convenient way to find content in the system that meets certain criteria. Content search can be executed through a simple search engine that runs the search algorithm with basic defaults or users can use the advanced search interface to make specific selections to tweak the searching engine.
NOTE: Basic search can also be launched directly from the Start page as well.
Searching Content
Basic Search
Users can enter search strings into the search dialog to run the basic search function. The basic search function searches across all folders, books, dashboards and publications that CONTAIN ALL keywords in either their names, descriptions or tags.
Tag Search
Users can do a basic search via tagged content using the tag search option (green highlight below). Once checked, users are given a listing of their tags on the left (orange highlight). Clicking on a tag will load the related content on the right (red arrow). Use the mini filter options (black arrows) to either sort or filter the tags as needed.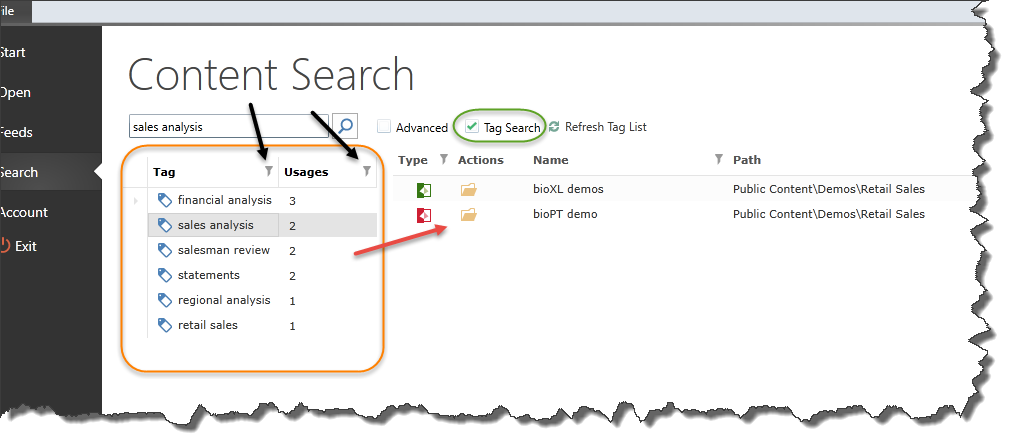 Advanced Search
The advanced search provides users with the opportunity to tune the search engine with different settings and filters to find items more specifically.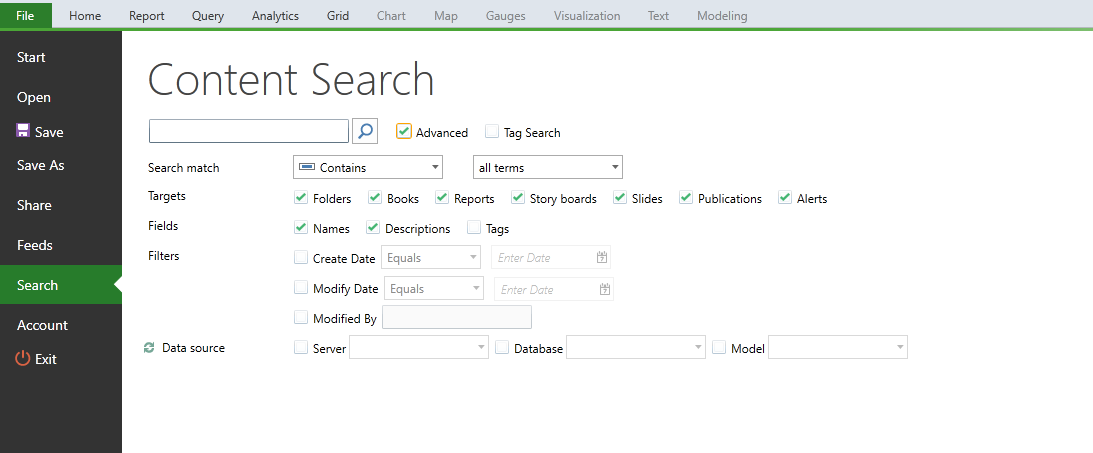 Users can specific the following advanced settings:
Search match: the method in which key words are matched . Using "ALL" indicates that the keywords must all be present in the results. Using "ANY" indicates that results must have one or more keywords in the results.
Targets: specify what type of content items to return.
Fields (to Search): indicate which fields will be searched against the given keywords.
Filters: 3 filters are provided to limit result sets - create date, modify date and the user ID of the user that last modified the content.
Data source: these filters allow users to specify result filters based on the datasource used in the item's underlying query. By default, books and dashboards that contain reports/slides that have the requisite data source matches will also be returned.
Using Search Results
Once search results are presented, users can click on items as follows:
Reports/Slides - the selected item is loaded up into their respective applications.
Books/Dashboards/Publications/Folder - the selected item is highlighted in the OPEN screen of the backstage.
Home | Table of Contents | Index | User Community
Pyramid Analytics © 2011-2022