Content Management Tools
The content management tool set is provided for end users to better organize and manage their content items across the different content domains offered in the application. Users can access the tools through the Open page in the backstage.
Right Click Commands
Right click on any item (folder, book, story board) to display a list of context-sensitive commands (shown below in orange). You can drag any item (book, story board, folder) to change its location in the tree.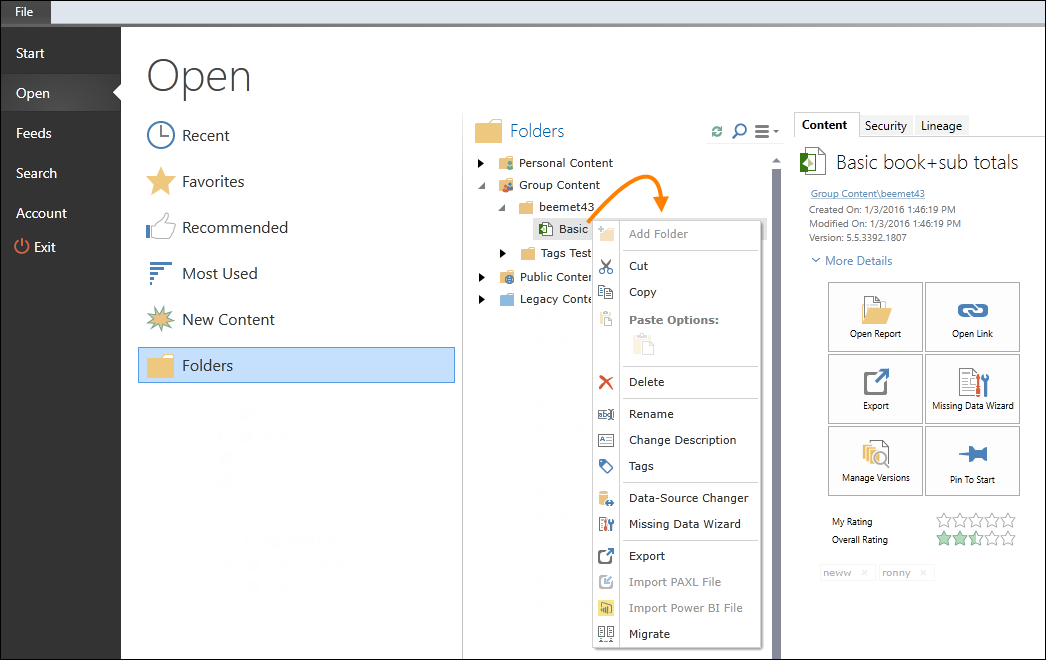 Command Descriptions
Add Folder
Add a new folder at current location.
Cut
Cut an item to clipboard for pasting.
Copy
Copy an item to clipboard for pasting.
Paste Options
Paste an item from clipboard to current location.
Paste Special (Cloning Content)
This function allows the user to duplicate a story board or publication. In effect, cloning is the same function as manually performing an export and an import of BI Office content. By clicking on "Paste Special", you are creating two files:
A duplicate dashboard or publication.
A matching book which contains the Data Discovery query data used in the cloned content including the custom elements.
Delete
Delete an item.
Rename
Rename an item.
Change Description
Change description of an item.
Tags
Tag Content for better file organization and easy searching. Tags can be applied to reports, books, folders and conversations.
Data-Source Changer
This is a search-based tool for updating and changing data sources across multiple selections of content. The Datasource Changer is also provided to facilitate a changing data landscape or the need to move content from one environment to another.
Missing Data Wizard
This is a search-based tool for correcting entire selections of content. The Missing Data Wizard or "MDW" is a mini-application designed to help end users correct content for changes in the underlying data sources (cubes).
Export
To export content, users can right click on one or more books or dashboards and choose Export. The engine will then prompt the user to save the export LOCALLY to their desktop as "PAXL" files. This exported file can then be re-imported into this or any other BI Office installation. This can be a very effective technique for users wishing to migrate development content from one server to the next.
Import PAXL File
Import "PAXL" files into targeted folders.
ProClarity BBK Importer
From the menu in the quick toolbar only, the ProClarity BBK Import utility allows users to import BBK books (in XML format) into the application.
NOTE: This feature is for enterprise only.
Import Power BI File
Allows Import of Power BI files (*.pbix).
Migrate (Enterprise Only)
The Content Migrator wizard allows users to migrate content from one Pyramid installation to another.
Quick Menu
The quick menu provides access to commands that can be run across the entire folder tree structure. These commands are described above.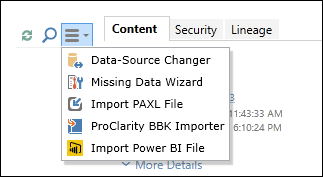 Tabs

One or more of the following tabs are displayed, depending on which item is selected in the tree.
Content Tab
Content tab displays both metadata and a series of function buttons for the current item. The metadata includes the name, description, create date, last motification date, and name of last modifier.
Security Tab
Security tab is used for setting Role-Based Security access for the current item. This tab is not visible for the Personal domain, for root folders and for ProClarity content).
Schedules Tab / Publications Tab
These two tabs are used to set and manage Schedules for publication templates, and to view the output from previously launched publication jobs.
Lineage Tab
Lineage tab is used for viewing and using the data lineage interface. Data Lineage gives users a holistic view of their content, its use and its metadata.
Home | Table of Contents | Index | User Community
Pyramid Analytics © 2011-2022