Data Discovery Ribbons
A series of command ribbons provide quick access to the most essential Data Discovery commands.

Execute Button
Click execute button to rerun the query with current values/selections.

F2 Shortcut
You can also press F2 to reexecute the query.
Highlight of Execute Button
When grid changes have been made, the execute button is highlighted, as shown below.

In some cases, the system updates the query automatically without highlighting the execution button.
For example, if you change font size or chart colors, the changes are performed immediately in the workspace.
Another example is when you have the slicer autorun feature turned ON and you change the slicer selection. The system applies the new slicer without highlighting the execution button.
Query Spinner
If the query takes over two seconds to run, a special spin time is displayed with a Cancel option. If the spinner takes too long or you wish to make changes, just click the Cancel option.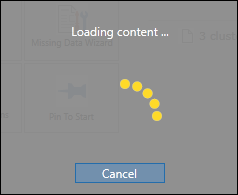 Title Bar
The title bar contains the current book name and the current data source. In the example below, the book is named [April Returns].

Quick Access Toolbar
The quick access toolbar contains several commands that become active based on the current context of the Data Discovery application. For full details, read Saving Content.
App Indicator
Indicates the current application (green for Data Discovery application).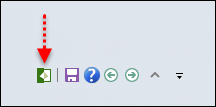 Save
Saves the current book.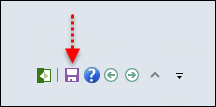 Help
Opens help system.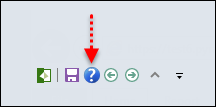 Back
Goes to previously executed query.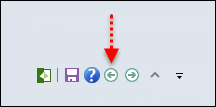 Forward
Goes to next query (after usage of "Back" command).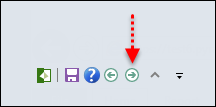 Minimize/Maximize
Minimizes (closes) the current ribbon. Maximizes (opens) the current ribbon.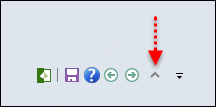 Customize Quick Access Toolbar
Determines which commands appear in the Quick Access Toolbar.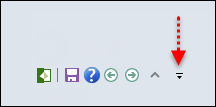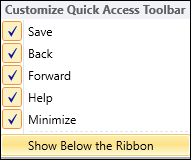 Split Buttons
Many of the buttons that appear in the Data Discovery ribbon are split buttons.
Advanced Features
Some of the advanced options in the Data Discovery ribbons may not be available to Consumer Users.
Current Report Only
Changes made in the Data Discovery ribbon influence the current report only.
Home | Table of Contents | Index | User Community
Pyramid Analytics © 2011-2022