Pyramid Menu
The Pyramid Menu becomes active when you display an individual report or slide.
Back to CMS
Return to the main CMS Window.
Re-Run All Queries
Updates all queries based on the latest changes you made within the lite client (context-menus, slicers, etc.).
Reset All Panels
Removes all lite client changes and redisplays all content based on the latest content to be saved in the main client.
Load Detailed View
Use detailed view if you wish to see all available information (including data labels).
Load Optimized View
Use optimized view if your display becomes cluttered and you wish to hide details such as data labels in order to produce a cleaner presentation.
Export/Print
Export content to a variety of file formats.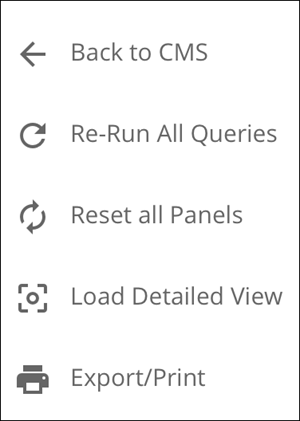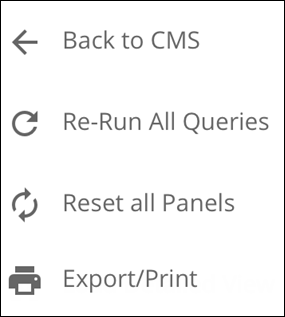 Home | Table of Contents | Index | User Community
Pyramid Analytics © 2011-2022