Alerts <![CDATA[ ]]>
The Alerts menu allows you to view and dismiss alerts that are created in the main client.
To dismiss a single alert, click the relevant X.
To dismiss multiple alerts, check the desired boxes and then click Dismiss Selected.
To dismiss all alerts, click Select All and then click Dismiss Selected.
NOTE: The Alerts menu is available for Publication license holders only.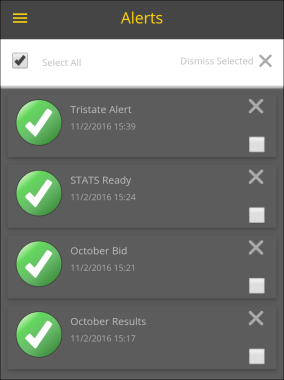 Alert Message Dialog
Click an alert in the above list to display it in the Alert Message dialog (as shown below).
Click Dismiss to remove the alert from the list.
Click Close to close the dialog and leave the alert in the list.
Use the left/right arrows to view the previous/next alerts in the list.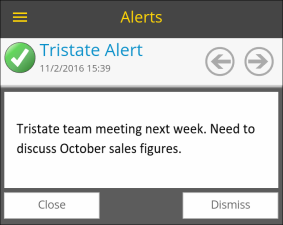 Home | Table of Contents | Index | User Community
Pyramid Analytics © 2011-2022