Final Model Deployment
The last stage of the modeling process in BI Office requires the user to supply some metadata for the new model and launch processing.
Finalization Options
Provide the model with a unique name (red arrow) as well as a description (purple arrow). BI Office will prompt with some default values based on your data sources.
Select the target server that will host your model. If you have more than 1, choose the appropriate server from the drop down list.
Choose a metric that will be used in queries by default from the drop down list.
Elect whether drill-through capabilities will be auto-enabled for this model. Drill through allows users to see the granular data transactions behind data cells in reports.
Elect whether to auto launch the new model after processing into a new Data Discovery session.
If you are using a packaged data source which comes with packaged reports, elect whether to import the selected report package (see below) and auto-wire it up to your new matching data model.
Then click "Finish" to launch and process the model. A pop-up box will appear saying "Build Succeeded" if everything was deployed successfully.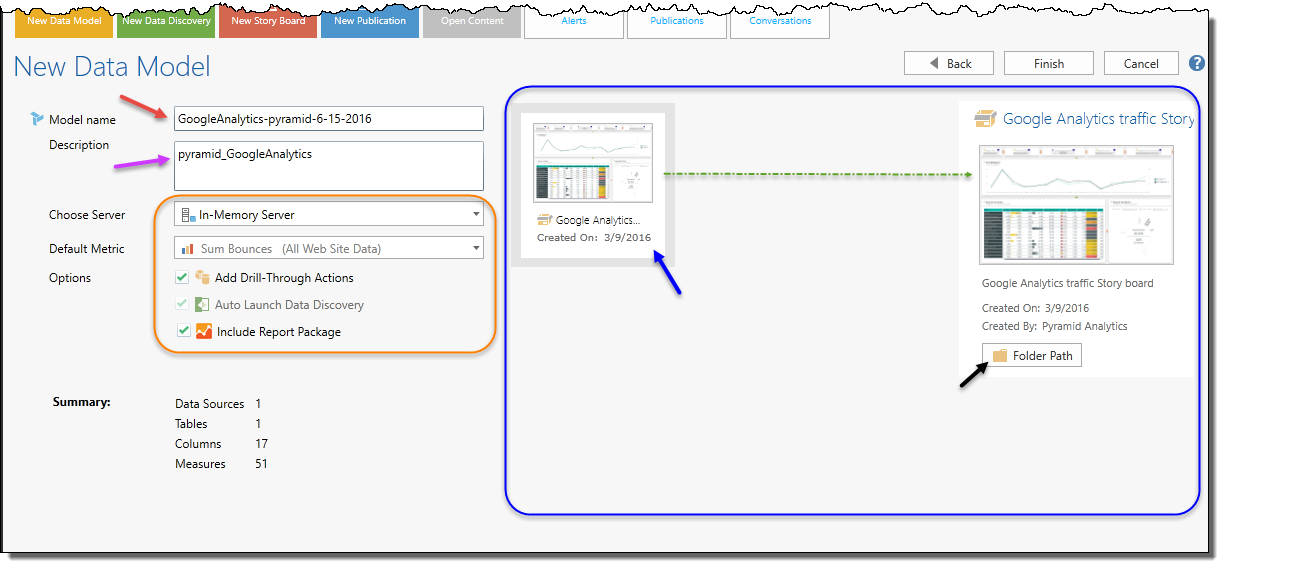 Packaged Reports
If you are using a packaged data source, you can elect to use the matching packaged reports (blue highlight above).
Select the a report package (blue arrow). You'll then see a mini summary of the package on the far right (green arrow)
Change the destination folder for the new reports by clicking the folder path button (black arrow)
Home | Table of Contents | Index | User Community
Pyramid Analytics © 2011-2022