Data Model Scheduler
This tool allows business users (with the appropriate access) to automate a reprocessing and refresh of their data models based on a schedule.
NOTE: This feature is only available for Data Models and Tabular models where the user has administrative access.
Accessing the Data Model Scheduler
1. From the backstage in the main client click "New".
2. Click on the green "New Data Discovery Analytics" icon.
3. In the middle panel, click on one of the servers presented under "Existing Data Sources" (there may only be one).
4. In the right-hand panel select the desired database and then the desired data model (cube).
5. Click on the "Manage Data Model" button.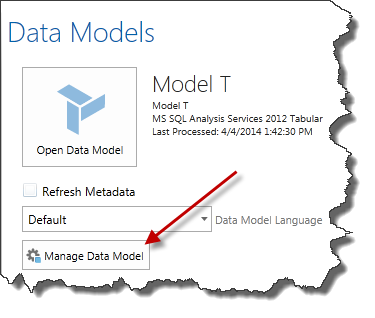 6. Select the "Schedule Process" button in the pop-up window.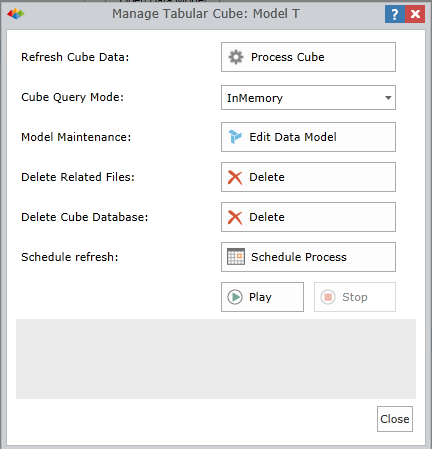 Data Model Schedule Workflow
Once you click the "Schedule Process" button another window will be displayed: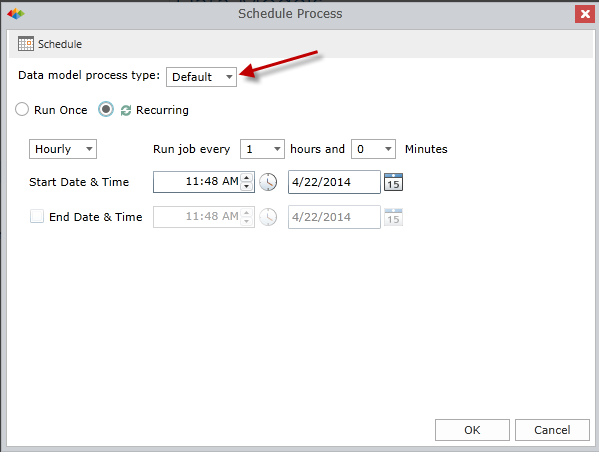 There are four processing modes:
Default
Full
Clear
Recalc
(Refer to the Microsoft guide for further information on each option.)
Then, determine WHEN the data model should be processed:
Run once – the data model will only be processed once. You can schedule a specific time and date with the "Delayed Start" interface.
Recurring – the data model will be processed multiple times based on your selections. When you click on this item, a new interface will be displayed. You can choose to process the data model hourly, daily, weekly or monthly and specify the start data and time as well as the end date and time.
Click "Ok" and you will be returned to the "Manage Tabular Cube" window.
You can activate or deactivate this schedule by clicking on the "Play" or "Stop" buttons.
Home | Table of Contents | Index | User Community
Pyramid Analytics © 2011-2022