R Environment <![CDATA[ ]]>
Allows administrators to configure R Environment for Data Discovery tool.
R Environment Parameters
Enable R Environment - By default, this box is disabled. Check the box to enable the R engine within Data Discovery.
Local Host/Remote Host- Select local or remote to determine where the R engine will be functioning. Be default, BI Office uses a local host, but you have the option of using a remote host.
Timeout - Specify a timeout (in seconds) for the R engine. This assures that control will be restored to BI Office if a communication or processing problem occurs with the R engine.
Libraries Management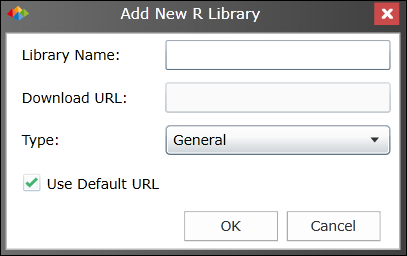 Library Name - Type in desired Library Name.
Download URL - If the Use Default URL option is checked, the Download URL field cannot be accessed. If you uncheck the Download URL field, you can type in any Download URL that you like.
Type - Select type as General, Forecasting, Clustering or Prediction. If you pick general, the library functions will appear in all three R tools (Forecasting, Clustering, Prediction).
Use Default URL - Check this item to use the default URL for downloading the library.
Home | Table of Contents | Index | User Community
Pyramid Analytics © 2011-2022