Content Linking
This feature can be found in the Alert Home tab and allows you to add a live link to a specific book or report from within the alert message. Recipients can then click the link to open up the interactive content when they get the message.
Click on the button in the Alerts Home tab and a pop-up window will be displayed: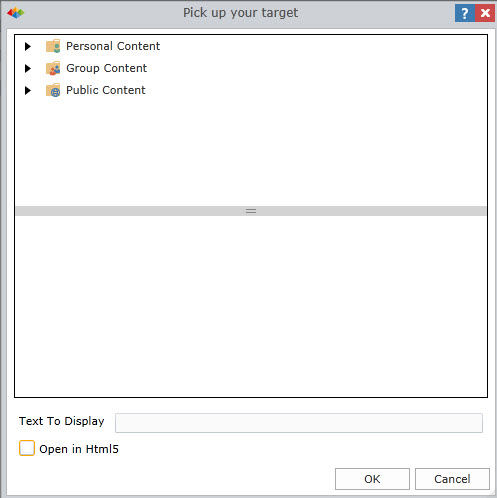 1. When you click on a folder, the files within are displayed in a tree structure. Click on the book and the reports within will be displayed in the below section. Click on the desired report.
2. Then, fill in the "Text to Display".
3. If you check off the HTML5 box, then the link will be connected to the HTML5 version of the application. That means, that when a user click on the link, they will be taken straight into the report in the HTML5 version of the application.
4. Click OK to create the link and it will appear in the alert.
To edit the link, simply click on the text.
Home | Table of Contents | Index | User Community
Pyramid Analytics © 2011-2022