Adding a Custom Slice
When you click on "Add Slice" in the Slicer Manager icon, a pop-up window will appear presenting: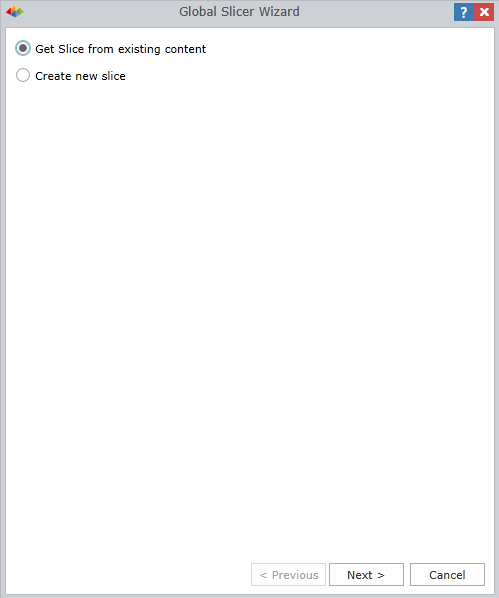 There are two options available:
1. "Get Slice from existing content" - This allows you to grab slices already created in Data Discovery content.
Select "Get Slice from existing content" and click "Next".
The following window will present two panels:

Select the desired book in the left-hand panel, and the report within will be displayed in the right-side panel.
Select the exact slice you would like to add to the Slicer Manager.

Then, click "Finished".
2. "Create New Slice" - This button triggers a wizard for building and adding new slicers from available data sources.
Select a cube which holds the data from which you want to build a slicer.
Next, you can specify a source dimension/hierarchy, followed by selections from this hierarchy that will be used to populate the slicer's value list.

(Hold Crtl to add more than one selection)

The bottom section determines the default selection of the slice. You can choose from:

First: the first element in the slice
Last: the last element in the slice
Default Member: a specific member you select from the slice members

Click "Finished".
Once the slices are added or created, you can choose to edit or delete them by the icon to the right of their names.
NOTE: Only the slices created in the Publication application can be edited. You cannot edit slices that were added from existing content in the Data Discovery application; you will have to edit those slices from within Data Discovery application.
NOTE: The scope for editing the slices created in the Publication application is limited to the slice's members and default selections. Anything beyond that will require a new slice.
Editing a Publication Slice
After adding a new slice,you can go back and change its element set by clicking on the edit icon next to the slice name. You can also edit the default selection of the slice and the slice type.
NOTE: In the case of existing slices that have been added from Data Discovery, the edit option only allows you to change the slice type.
Slice Type
There are two types of slices available here: drop-down and text box and drop-down is the default. The text box slice interface will allow users to access a list larger than the maximum number of elements that can be shown in a standard slice - by using the in-built "more options" mechanism for retrieving extra elements from the server.
For more information about these slicers, click here.
NOTE: The slice type is relevant when creating a schedule. For more information on scheduling, click here.
Home | Table of Contents | Index | User Community
Pyramid Analytics © 2011-2022