Exporting Content
Exporting from the Backstage
Content can be exported to MS Word, Microsoft Excel, and PowerPoint document formats from the Backstage Distribution interface. Both Data Discovery and Story Board content can be exported to both formats.
Once the export has begun, the users will be prompted with a spinner. Once the export is completed, users are prompted to SAVE the export file locally.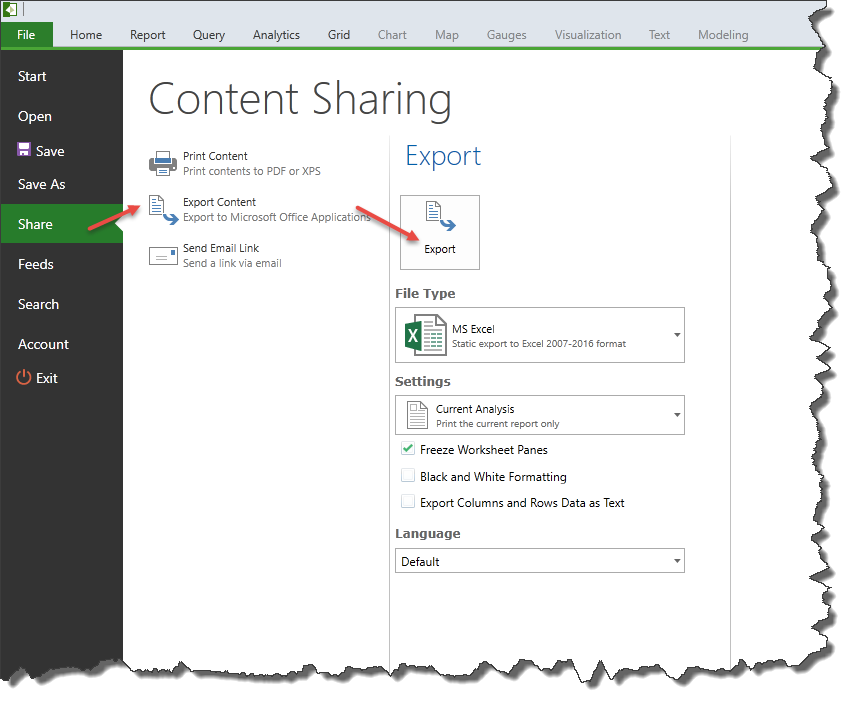 From the backstage Distribute button, users click the Export Content button to access the export panels
Users elect which format they would like to use, depending on which application content they are exporting:

MS Word 2007-2016
Excel 2003/2007-2016
PowerPoint 2007-2016
Users select what they want to export

Export the current report (current analysis in the client)
Export the entire book of reports (based on the LAST SAVED version of the book)
Export specific reports currently in the book (based on the LAST SAVED version of the book) by selecting the desired reports from the window
Options
Users can elect whether the report will have frozen panes on the rows and columns
Users can select whether to apply simple "black and white" formatting
Users can select whether the content in the rows or columns of a report are exported natively or as text
Quick Exports to Excel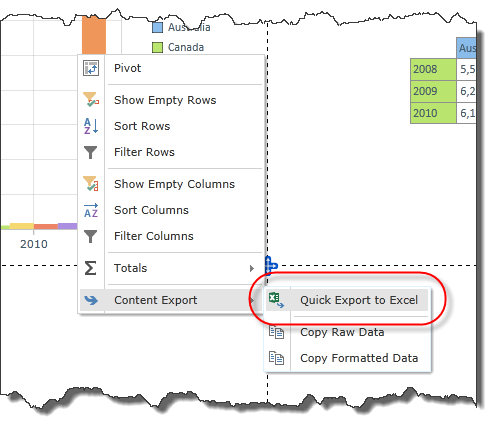 To generate a quick export to Excel, simply right click on an analysis in either Data Discovery or Story Board and choose "Quick Export to Excel" from the report context menu. You will be prompted for a place to save your XML export document on to your local workstation.
Once exported, double click on the file to open it up in Excel.
Home | Table of Contents | Index | User Community
Pyramid Analytics © 2011-2022