Report Power Square
The Power Square is a convenient short-cut feature for seeing meta-data about the selected report and for managing the selected report.
Meta Data
Hovering over the power square will reveal meta information:
The report name and description.
Filters (slicers) and cell overlays used in the report
Data source and date statistics about the report.

If the underlying data source is sanctioned or approved, the watermark certification icon is shown (black arrow).

Query stats about the report.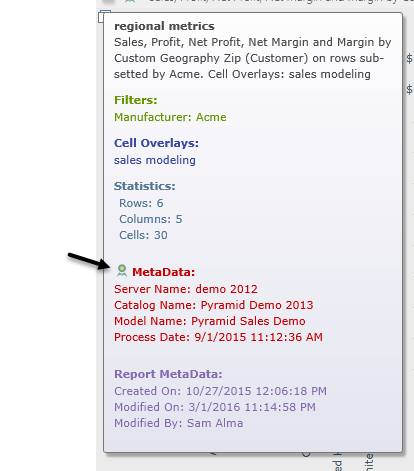 Report Management
Right clicking on the Power Square will expose a context menu for managing the selected report.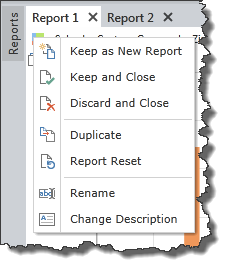 Keep as New Report - will take the current state of the current report, duplicate it into a new report and then prompt for a new report title. It will also close out the predecessor report, WITHOUT saving any of its changes.
Discard and Close - will undo any changes made to the report and leave it in its last saved state and the close it
Rename - will allow the user to rename the report
Description - will allow the user to change a reports description or set it to the auto-title.
NOTE: None of the above changes will not be committed permanently until the book itself has been saved to the server.
Home | Table of Contents | Index | User Community
Pyramid Analytics © 2011-2022