Adding New Geospatial Shapes
The Geospatial upload tool can load shape files (WGS 84) & addresses to the Pyramid GIS database for use as a map visual capability when using the mapping components in Data Discovery.
NOTE: This is an advanced function and it should only be used by analysts with clear knowledge of the shape data.
Using the GIS Uploader
First, prepare a ZIP file of your shapes. The zip file MUST contain 3 separate files (named consistently):

shapefile.dbf
shapefile.shp
shapefile.shx

Next, click the 'New GIS Layer' button on the Map Tab, to launch the dialog below.

Provide a name and description for the layer. Also supply a name for the layer's storage table (can be the same).
Choose the lookup language and determine if there will be a meter to degrees conversion applied to the file.
Last, click the ellipsis button to upload the shape file. This may take some time if it is large.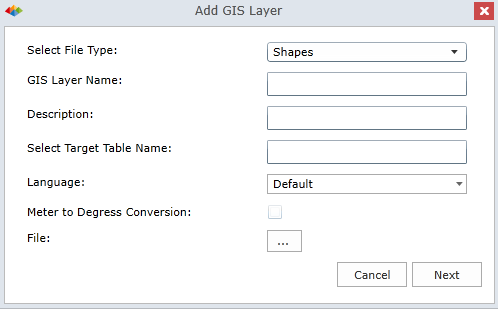 Once the file is pre-processed, you are presented with the following dialog.
Here select the lookup column that will be matched to the text of the values of the elements in the selected hierarchy - typically its "name" (pink highlight).
You can also provide relationship tables (green and blue highlights) that provide other context to this element - like "country" and "state" for cities.
Click Process to complete the upload.
NOTE: the processing can take some time to complete. Please be patient.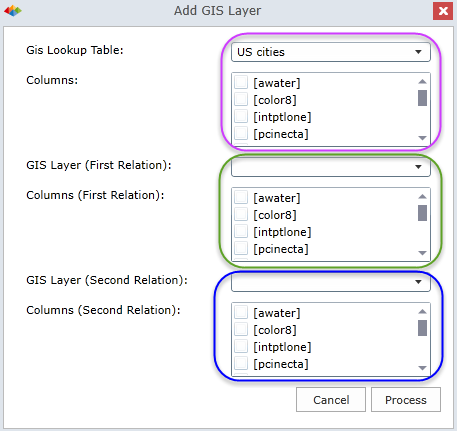 Mapping Hierarchies to a new GIS Layer
Once the new shape layer is uploaded, users need to tell BI Office which hierarchy will use the layer and how. This is done via the hierarchy context menu in Data Discovery.
Click here for more on this process.
Home | Table of Contents | Index | User Community
Pyramid Analytics © 2011-2022