Metadata Tree
Data Discovery contains an interactive metadata tree that allows you to manage queries within the workspace. The tree contains three different control panels, as described below.
Selection Panel
The Selection Panel functions as an interactive set of four "zones" that allow you to add hierarchies to the underlying query and configure which levels/elements to include.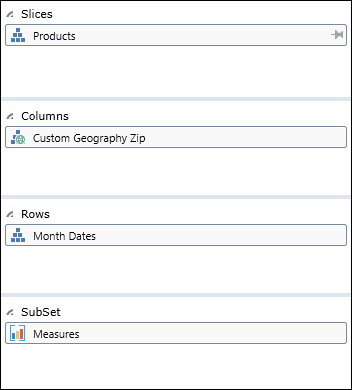 Hierarchies Panel
The Hierarchies Panel allows you to browse the structure of the data model at the dimensional level. You can select which hierarchies, levels and elements to include in your query, using drag-and-drop functionality as well as right-click context menus.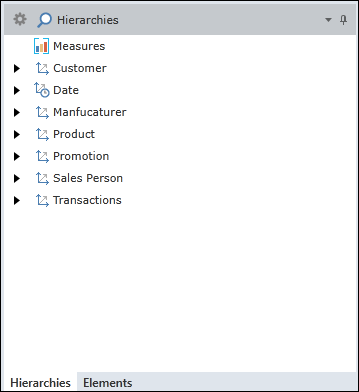 Elements Panel
Element Panel for Hierarchies
The standard Elements Panel allows you to browse the individual members of elements for a selected hierarchy. You can traverse the tree and determine exactly which parents/children to include in the query.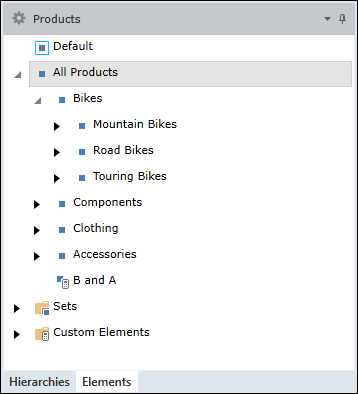 Elements Panel for Measures
The Elements Panel for Measures allows you to select one or more measures for inclusion in the query.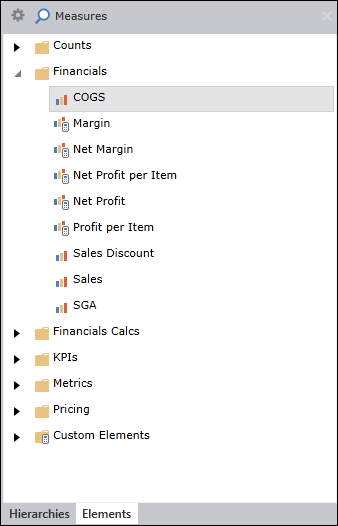 Home | Table of Contents | Index | User Community
Pyramid Analytics © 2011-2022