Tagging Content
Users can apply tags to a variety of content items for better organization of content and search. Tags can be applies to reports, books, folders and conversations.
The tag search feature in the Search page allows for the search of content by tag for reports, books and folders. The separate tag search features inside the collaboration engine can be used for conversation tag searches.
Adding and Editing Tags
Content
Reports, Books and Folders: Using the context menu on the folder tree, users can choose to edit the tags for the current item using the tag dialog. To add a tag simply start typing into the dialog (purple arrow). if any current tags match your text, it will appear at the bottom(red). You can elect to use it (by clicking on it or hitting the Enter key) or continue typing your own unique tag text. Once done, either click ENTER to submit the tag or click the Add tag button (orange highlight).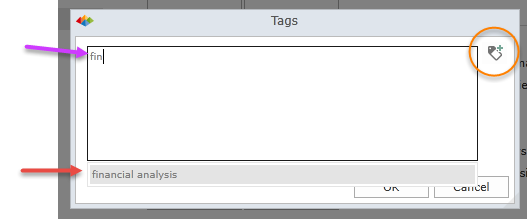 Conversations
The conversation tag entry is identical to the content mechanism above. However, the entry point is within the conversation interface.
Home | Table of Contents | Index | User Community
Pyramid Analytics © 2011-2022