ProClarity BBK Importer
The ProClarity Briefing Book (BBK) Importer is designed to import ProClarity 6.3 locally saved briefing books into Pyramid. The BBK Importer should not be confused with PAS content which provides direct "legacy" access to server based PAS briefing book repositories.
NOTE: the Import facility is only available with the enterprise license of BI Office.
Preparing BBKs for Import (Converting to XML)
Before a briefing book can be imported, it needs to be converted to XML file format:
Open the BBK in ProClarity (Desktop or Web Pro).
Choose "Save As" from the file menu.
In the type of file, change it to XML and select an empty folder to save the XML files.
Save the book.
Importing the XML Files
Select the ProClarity BBK Importer options command from the list.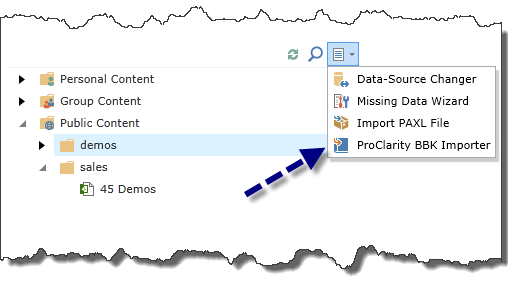 The ProClarity BBK Importer dialog appears.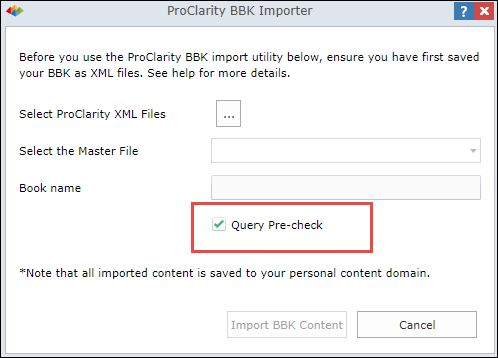 Click the ellipsis button to select all XML files that were created in the previous phase.
Be sure to select ALL of the XML files. The operation will not succeed without all the files from the original briefing book.
In the drop down, select the "master file". Typically the master file has the same name as the original BBK file, except it ends with the extension "xml".
(optional) Checking this box will cause the Query Pre-Check option to be turned on by default in the Data Discovery/Query Ribbon.
(optional) Provide a new book name for the imported item. By default, the name of the original BBK is used.
Click Import BBK Content to being the process.
WARNING: The import process will fail if the data source used in the briefing book does not exist inside the BI Office system. To avoid this issue, ask your system administrator to add your data source to BI Office.
Home | Table of Contents | Index | User Community
Pyramid Analytics © 2011-2022