Content Migrator
The content migration wizard is designed to allow professional users to move content from one BI Office installation to another. Typically this is often deployed when moving content between development, test and production instances.
NOTE: The Content Migrator is only available in the enterprise version of BI Office.
Migrating Content
The first step in migrating content is to connect to the target instance of BI Office that will be receiving the new content.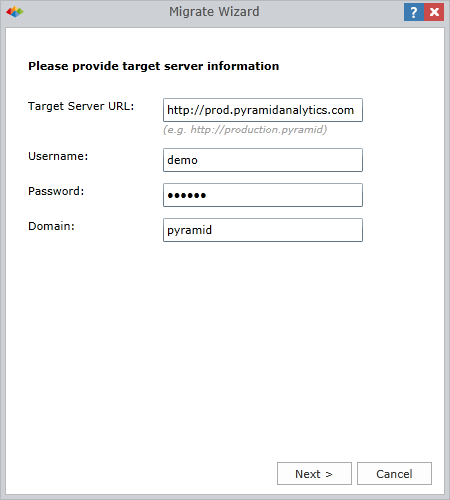 The wizard requires the target instance URL. This is typically the URL address of the instance users type into a browser to access to the application itself.
Next user credentials (username, password and domain) ON THE TARGET SYSTEM are required. These items are used to log into the target instance.
Target Settings
Once the wizard has logged into the target system, you will be prompted to pick a target directory to migrate the source content to.
You are also asked to make 3 migration elections:
Move all custom calculations to your private workspace - will force all custom elements embedded in the migrated content to be set as 'private content'. If not checked, the custom elements will be migrated in their original public/private settings.

Match all public role access to content in the target system (by name) - when public content items (reports, slides, books and custom elements) are migrated, the wizard will attempt to set the role security in the target system using the role settings from the source system. The match up is done using a simple role-name matching.

Overwrite any existing content (books, dashboards and calculations) on the target system - if content items already exist in the target system, they will be overwritten by the new items coming in from the source system. This applies to reports, slides, books and dashboards as well as custom elements.

Create New Custom Elements - you can elect to create new elements rather than copying over existing elements on import. This item is disabled if the above "overwrite" option is chosen instead.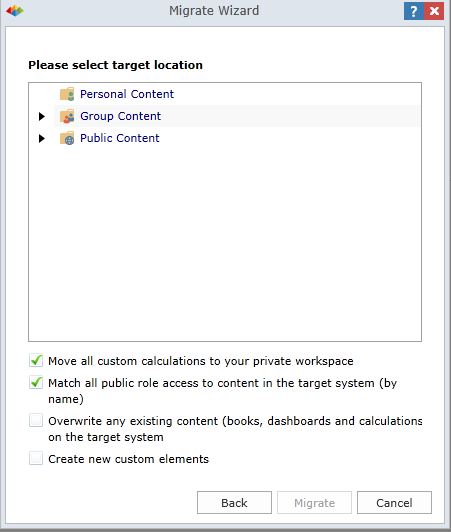 Once selected, the wizard will begin the export/import process after the Migrate button has been clicked.
NOTE: Content migration is also available programmatically via the Web API's. It can also be achieved through manually exporting and importing Pyramid content.
Home | Table of Contents | Index | User Community
Pyramid Analytics © 2011-2022